International premiere of the documentary Persistencia (Persistence)  6th of February 2020 in Mexico City. Panel discussion with Mario Rufer, Christiane Burkhard and Paula Mónaco Felipe.
–> download Flyer (English, castellano,  deutsch)
–> Link to Trailer (English subtitles): https://vimeo.com/353875557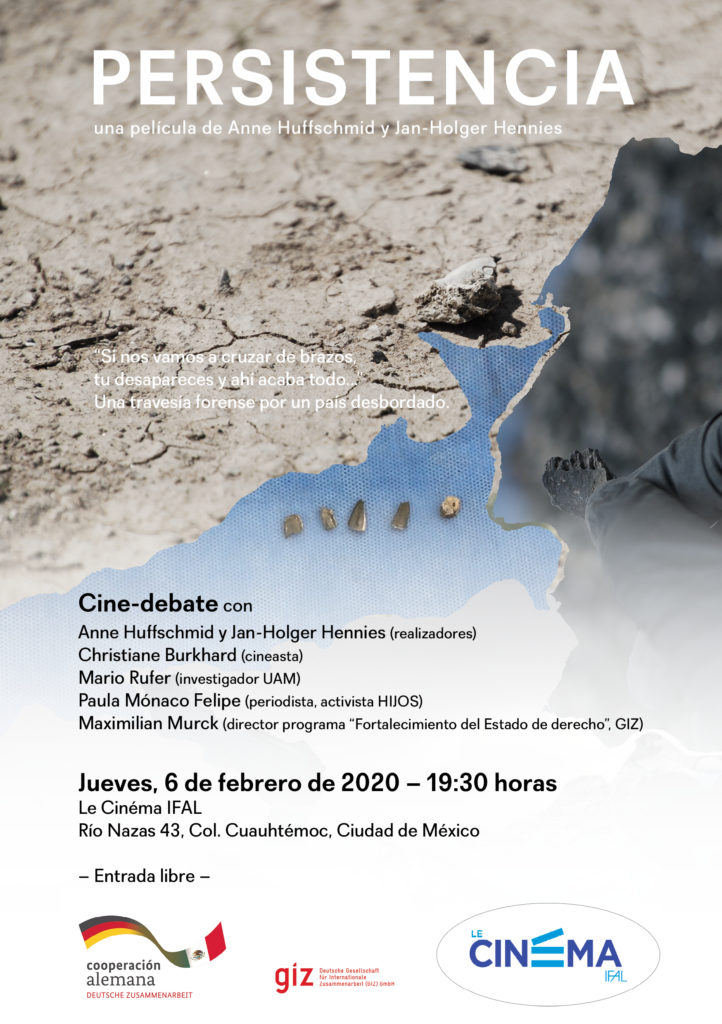 In 2020, Persistencia has been selected to participate in a number of prestigious international festivals such as Ambulante and DocsMX (Mexico), EASA (Lissabon, Portugal), Etnocineca (Wien, Austria), Festival de Cine Etnográfico (Quito, Ecuador),  PUKAÑAWI (Sucre, Bolivia) and the Jean Rouch International Film Festival (Paris).
See for the current screening  in DocsMX (8 – 25 of October,  free online-screening the 19th ) this festival link!
On February 7 of 2020 the interactive web platform Pedagogia Forense was launched in Mexiko City, that Anne Huffschmid had conceptualized and directed, together with Jan-Holger Hennies, for the Equipo Mexicano de Antropologia Forense (Funding ifa-zivik): link to the platform (only Spanish).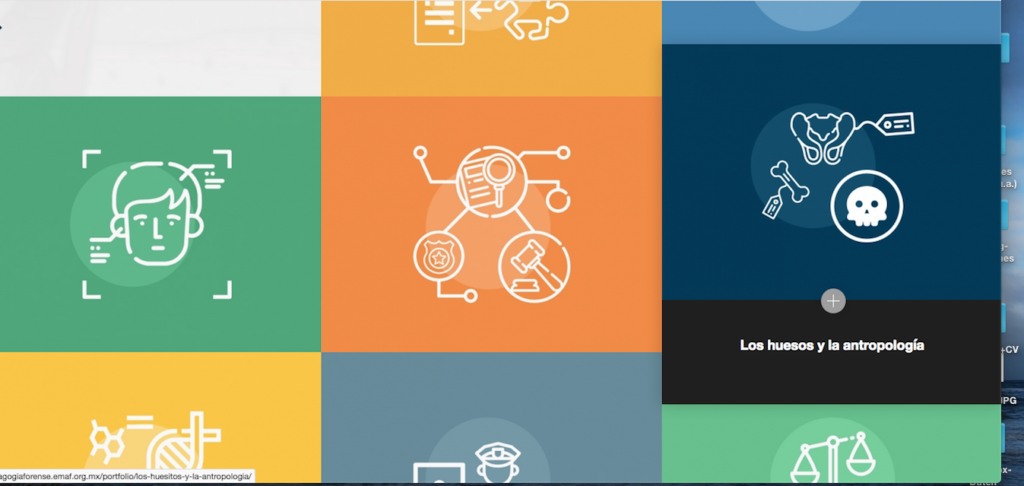 RECENT PUBLICATIONS:
"Paisajes forenses. Sobre como mirar, leer y narrar las fosas intervenidas de nuestro tiempo". In: Arturo Aguirre Moreno / Juan Carlos Ayala Borrán (Hg.):
Tiempos sombrios. Violenca en el México contemporáneo.
Buenos Aires: Editorial Biblos, S. 39-70
(download pdf).
Neue forensische Landschaften. Verschwundene, Suchmanöver und die Arbeit der Bilder in Mexiko". In: "Forensik", Zeitschrift für Kulturwissenschaften, 01/2019, hg. von Zuzanna Dziuban, Kirsten Mahlke und  Gudrun Rath), S. 69-82 (download pdf). Darin auch eine Bildstrecke mit Stills aus dem Dokumentarfilm Defying the Earth (S. 87-97).

Forthcoming (oct 2020)
"The Human Remains. Forensic Landscapes and Counter-Forensic Agencies in Violent Presents – The Mexican Case", to be published as research report nr. 54 in the series DSF Forschung